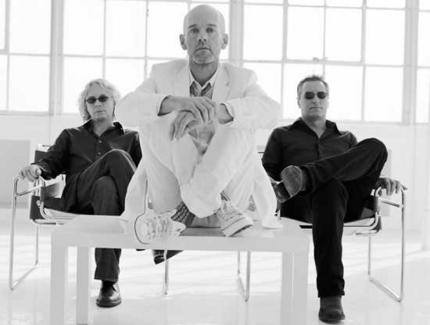 Well, another part of my past finally called it quits today.
After 31 years, the band R.E.M. has announced they've broken up. "As lifelong friends and co-conspirators, we have decided to call it a day as a band," the band remarked in a statement posted on their official website. "We walk away with a great sense of gratitude, of finality, and of astonishment at all we have accomplished.
To anyone who ever felt touched by our music, our deepest thanks for listening."
As someone who collected the band's albums, good and not-so-good, all the way through to their last studio album Collapse Into Now, I'm certainly not surprised but I do have to wonder what took so long. Their last really big album was Monster way back in 1994 and the band's quality dropped significantly after drummer Bill Berry suffered a brain aneurysm in 1995 and later left the band two years later. They only seemed to get their groove back with Accelerate in 2008 and this year's Collapse Into Now seems like a solid enough effort to go out on.
However, like many R.E.M. fans, I tend to focus on their earlier albums, the ones more full of life and classic alternative/college rock energy. My major introduction to R.E.M. was with their Green album, their first with Warner Bros. Records, although I'd obviously heard their earlier songs here and there on the radio. But Green was one of the earliest albums I'd bought on CD after over a decade of listening to tape cassettes, so it got a lot of play. Songs like "Orange Crush," "You Are the Everything" and "World Leader Pretend" really grabbed me so I went back and started getting their collecting their previous stuff, blown away by how consistently good those albums were.
It wasn't until their Monster tour in 1995 that I finally got to see them live at the Polaris Amphitheatre in Columbus. I remember them giving songs like "What's the Frequency, Kenneth?," "Crush With Eyeliner" and "Bang and Blame" a lot of punch, but even then it seemed like R.E.M.'s best days were starting to be behind them. Lead singer Michael Stipe looked and acted as though he was turning into actor John Malkovich and guitarist Peter Buck lost quite a bit of his edge as he grew older, which seemed to show on their later albums.
So now it's the end of R.E.M....and I feel fine with it. I'm glad they were able to redeem themselves somewhat with their last two albums before breaking up, but those stellar first nine albums are the ones I'll probably keep going back to as the years wear on. Something tells me I won't be the only one.