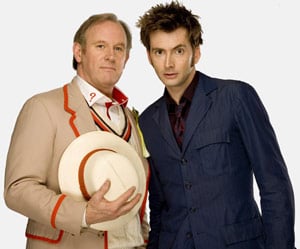 The Internet Movie Database (IMDb) currently has a cast listing for Episode 13 of Doctor Who Series 6 that includes two very familiar actors -- Peter Davison and David Tennant, also known as the Fifth and Tenth Doctors, respectively. And yes, they're both listed as playing "The Doctor" in the episode.
Now, I know that IMDb gets their information wrong from time to time, so I'm a tiny bit guarded about this, but you have to admit that bringing two previous Doctors back would be a hell of a finale...or perhaps a cliffhanger for the 2011 Christmas special? I don't suppose Doctors Five, Ten and Eleven could team-up to rescue Eight from being marooned on whatever "rock-like planet" he's possibly stranded on? "The Four Doctors"...Say, that's catchy...
Ah, well. I guess we'll find out more later this year, won't we? Two minutes to Belgium!